Back to List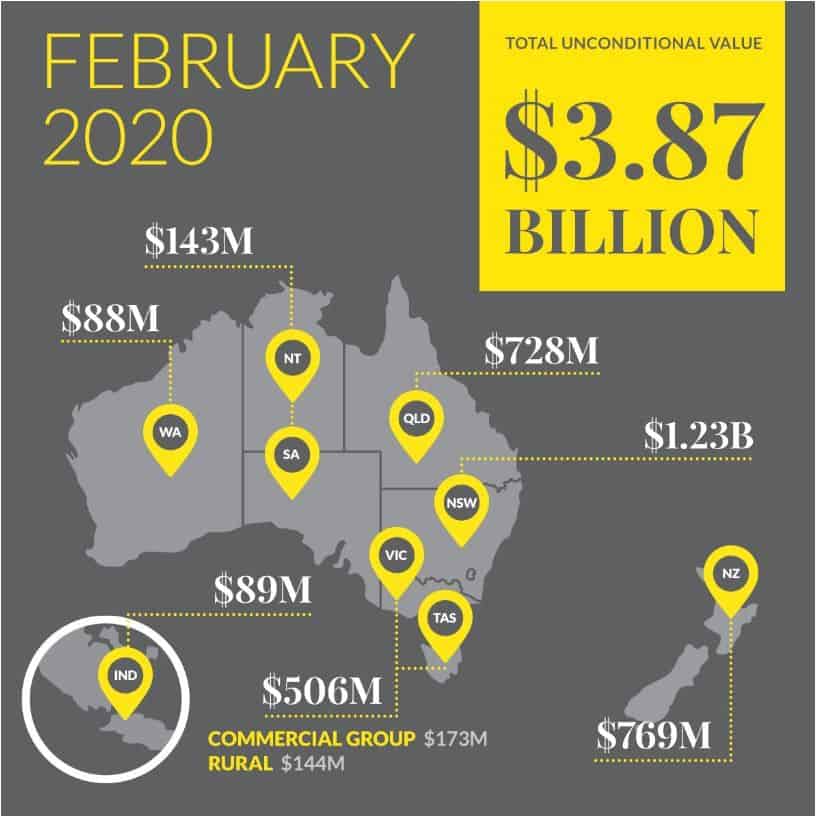 On the back of a record January and with rising median house prices, we awaited our February results with more than usual interest.
Our members recorded $3.87 billion in total unconditional sales for February, a staggering 30 per cent higher than the same time last year. More importantly, the result is 12 per cent higher than February 2017 – the most recent high peak of the cycle. In NSW we booked $1.225 billion in sales – some 85 per cent higher than the last time last year. Sure, it was a 29 day February but these numbers took us all by surprise.
We also saw a 30 per cent jump in the number of auctions booked in February to 1752, and the good news is we already have 1,530 booked so far in March which is well up on last year. We saw some huge crowds in February – almost 50,000 people attended our auctions in (compared to 29,000 in January). With 4.3 average registered bidders on every property, our members are creating competition and opportunities for our sellers to transact without conditions. Buyers are arriving with firm strategies in place to secure their desired property.
The Reserve Bank of Australia has dropped the cash rate to a record low in an attempt to stimulate the wider economy. We don't believe the latest cut to the cash rate will have much impact on people's buying intentions, as the community has been expecting rates to be lowered for some time. Interestingly, while there may be much speculation on what impact the coronavirus may have on the global economy, the Australian prestige market in particular remains very resilient. Many of our members are reporting that the coronavirus has actually inspired many Chinese born residents to bring forward their investment plans.
As we begin March, we are excited to see the volume of stock is rising in the big markets of Sydney and Melbourne. The community seems to be strongly interested in what is happening in the market – our Real Estate of Origin initiative actually drummed up more than 7000 extra appraisals (in less than four hours) last week. This market activity is underpinned by a more favourable and active finance market. Our Loan Market brokers had a cracking February, with strong lodgement activity up 50 per cent year on year to $1.53 billion, $950 million in loan approvals and settlements at $770 million.
Dan White
Ray White Group
Managing Director