Back to List
This is more like the Spring we know and love! September 2019 was a welcomed return to much healthier activity as the housing market made further progress in its recovery. Sales volumes are up for the third month in a row, all our auction metrics strengthening further and average days on market are at their lowest levels in the past few years.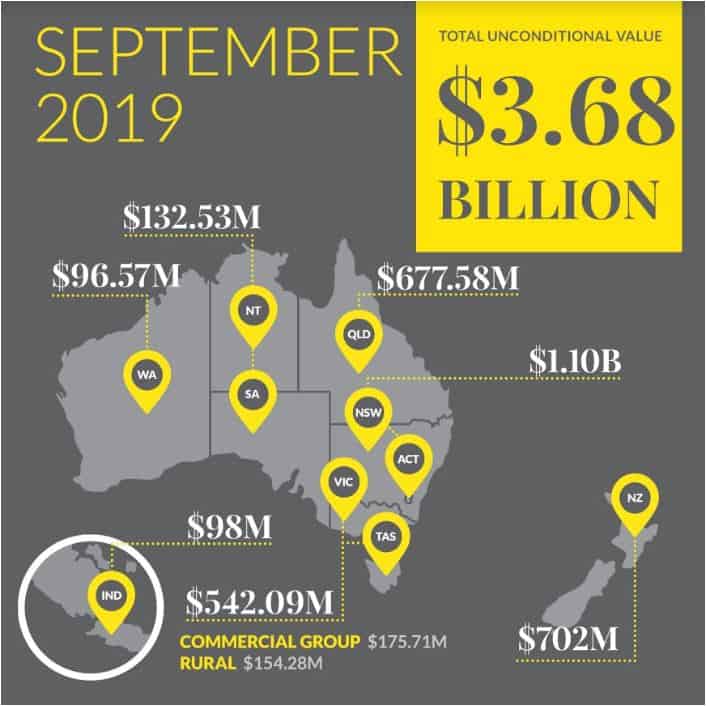 The final result for September was $3.68 billion in unconditional sales, which was more than $300 million or nine per cent higher than the same month last year. New South Wales / ACT saw the biggest leap in sales with a 14 per cent rise to $1.1 billion combined.
We saw strong lifts in most markets particularly Rural, Commercial and NSW. Queensland, although down slightly year on year, like many other markets over the past few months appears headed into positive territory.
Perhaps the most exciting thing about the September figures was the strong lift in appraisal numbers, with our members talking to more prospective vendors than we have in some time. But now is not the time to become complacent as the Reserve Bank of Australia has just slashed the official cash rate for the third time this year as it attempted to kick start the broader economy
Group Auctions
There were 1,824 scheduled auctions in September which was eight per cent down on September 2018. However, October is shaping up as a big month for auctions with 2,251 auctions booked in, four per cent up on last year.
Our Auction Day Clearance Rate for September was 61.6 per cent which was almost 10 per cent up on the same month last year and continues month on month PBs. Some 50,118 people attended our auctions in September with the average crowd size being 42.3.
Top Auction Sale of the month was at 80-82 Queen St, Woollahra, NSW which was sold by Ray White Woollahra's Ben Vaughan for $15.1 million. And congratulations to Ray White Baulkham Hills' Ash Singh who managed to register 30 bidders for 23 Baulkham Hills Rd, Baulkham Hills which sold for $1.2 million under the hammer.
We are proud to say that our group is responsible for nearly 1 in 4 of all auctions conducted in Australia and New Zealand. This is more than double the next largest group. We have never wavered on our commitment to the auction process to generate premium results for our customers.
Hide & Seek
After an intense lead up, we launched our second big brand campaign in early September called Hide & Seek – it's the second iteration of The Great Australian Dream series. This time around we created a much deeper range of assets, with targeted messaging for a broad range of customer segments. As we push more into digital marketing, we've planned out a social campaign that will run nationally as well as a VIC only display campaign, utilizing part of the southern state's marketing levy. We're learning a lot of lessons along the way that will serve us all well going forward. More details at Https://www.raywhite.com/hide-and-seek/
Awards Season
We finished off awards season with a bang. It's my favourite time of the year as it was so good to great to see some many members come out and attend their respective annual awards. In September we celebrated the achievements of the top offices and individuals throughout the network from South Australia, Western Australia, Queensland, New South Wales | ACT, New Zealand and the Rural network. Ray White Remuera has been crowned the Ray White top office in front of the sellout recognition evening audience for 2018/2019. Ray White Remuera was acknowledged as the top international office for the Ray White Group for the fifth year.
Major Network of the Year
We took home the Major Network of the Year award with REB for the fourth year in a row. The award cements our success despite a market correction in the last 12 months that has seen an increase in our family-owned business's market share to an all-time high of 11.45 per cent.
New Business
Ray White Rural Warwick – Experienced and well established Ray White Rural Pittsworth owners, James and Sally Croft have expanded their business and opened the doors to the new Ray White office in Warwick. Owning an existing Ray White office in neighbouring Pittsworth, the husband and wife duo believe the expansion was a natural step for their business as they aim to further service the needs of their clients.
Ray White Carnes Hill – Director Trevor Byrne has rebranding his business to become Ray White Carnes Hill. With just over 10 years experience, Mr Byrne has worked in the Carnes Hill area of south-west Sydney since the beginning of his real estate career and believes the move to Ray White is the natural step in reaching that next level of growth.
Ray White Kyneton – Well-known local agent Helen Jens has rebranded in Kyneton in the Macedon Ranges. "I was thrilled with the level of support and training offered by the group. And the element of family really resonates throughout the whole company which is really inspiring," Ms Jens said.
Loan Market
Loan Market also continued its lift in activity with another busy month, applications sitting at $1.39 billion, and $930 million in approvals and $706 million in settlements.
Customer Satisfaction
We maintain our relentless pursuit for customer satisfaction and our network sent 9013 survey in September, up from 8083 surveys in August. We received a response rate of 35 per cent and our NPS score sits at a very high 82.

Thanks I am Dan White.